NSU Ultramax camshaft drive system
NSU Ultramax system.
Design: Albert Roder (1896 - 1970)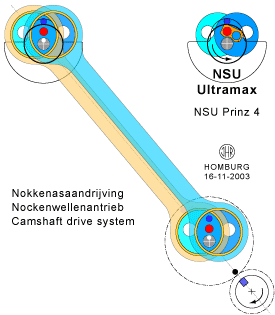 Explanation
The parts in the animation are made transparent, so the movements can be seen.
The blue drive rod rotates at the front (right side of the engine).
View: at the camshaft drive system from the right.
The lower drive is the crankshaft drive sprocket z = 22.
This sprocket drives the lower eccentric drive wheel z = 44.
The lower eccentric discs are attached to the lower eccentric drive wheel.
Lower part - crankshaft
The crankshaft rotates clockwise and the blue square is the keyway in the crankshaft (and for the coupling and Dynastart), which also indicates the position of TDC (OT) of the pistons. The lower eccentric drive wheel runs at half speed counterclockwise. The speed of the lower eccentric drive wheel is indicated by a black dot. Two identical eccentric discs are mounted in a fixed position among the drive wheel. The disc combination revolves eccentric around the 12 mm pin (yellow cross with white dot).
Upper camshaft system
At the top is a eccentric discs combination that makes the same circular motion. Camshaft-bearing is drawn as a thick black circle, which in reality is behind the 2 drive rods running. A counterweight causes the eccentric system well in balance thereby preventing engine vibration.
Fixed drawing next to the animation above
In this position the pistons are at top dead center (TDC) or in German: the Oberer Totpunkt (OT) and cylinder 2 is to ignite. The upper camshaft drive system (thick circle and arrow direction) drives the camshaft through a bronze connecting piece or sleeve (orange) and a drive pin (red), so the camshaft is rotating.

Reliable camshaft drive
Motorcycles
This Ultramax camshaft drive system was first applied to the motorcycles of NSU, the NSU Max NSU Max 300, NSU Supermax, SuperFox NSU, NSU Maxi, NSU Sportmax, Geländemax NSU and NSU Maxima scooter 175 cc (1960).
From 1952 to 1963, approximately 160,000 copies made.
Cars
From 1958 the first cars, the NSU Prinz I to III, was equipped with this camshaft drive system. From 1959 the NSU Sport Prinz 1961 and the NSU Prinz 4, produced till 1973: a total of 740,000 cars.
A total of approximately 900,000 engines were made with this unique NSU Ultramax system.
Prinz 4 Cylinder Overhaul
For dismantling and assembling the NSU Ultramax system see the page
cylinder head overhaul Prinz 4...