137 years ago, the production of the first bicycle started at NSU (1886-2023)
In 1886, the production of knitting machines of the "Neckarsulmer Strickmachinenfabrik A.G.", were almost exclusively produced for the Austrian market. Since 1885, however, Austria increased import taxes fivefold, which clearly decreased sales of knitting machines of "NSU" and the factory was forced to look for alternatives.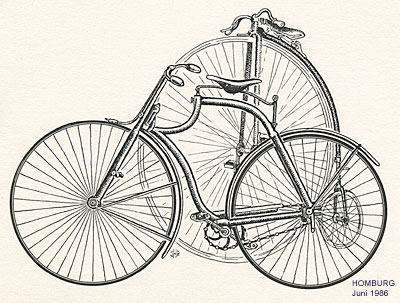 The High Wheeler "Germania" 1886 and the safety bicycle "Pfeil" 1888
The "bicycle" experienced a victory tour around the world and that was noticed by Gottlob Banzhaf, plant manager since 1884. He was the brother-in-law and successor of NSU founder Christian Schmidt.
1886 started the bike manufacturing in Neckarsulm
From 1886 bicycles were built next to the knitting machines. They were mainly composed of English parts and were also called the "penny-farthing".
The "Hochrad" made by NSU was named "Germania". This two-wheelers had a large front wheel (1.47 m) and direct driven by pedals. To a single curved seat tube at the rear, a small step was fixed and a leather saddle with suspension.
Because these "High Wheelers" were not practical, bicycles with smaller wheels were designed by the Neckarsulmers, the safety bicycle in 1888. The factory had 60 employees and made 200 bicycles in 1889. Due to continued demand for bicycles, the production of knitting machines in 1892 shut down.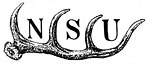 The factory produced now only bicycles. The brand name
"NSU im Hirschhorn" was officially established in 1892.
The three characters NSU were derived from NeckarSUlm.
The "Niederrad" 1893-1896 made the bicycle very popular and it became a sales success. All parts were produced in the own factory. From 1892 there were metal bicycle head badge with the brand name attached to the head tube.
The first registered name was renamed into: Neckarsulmer Fahrradwerke A.G..
In 1900, employed around 450 workers at NSU, 5281 bikes were produced. The year 1949 was a record year for back padel brakes, 297,000 pieces. They were also used in other bikes like the Dutch Empo. In the same year were 135,480 bicycles produced.
NSU produced about 343,000 two-wheelers in 1955, bicycles, mopeds, motorcycles and even scooters 26,684. This year's production of back padel brakes: 51,760.
From 1958 there were again small cars built. The demand for bicycles fell to around 40,000 units per year. The bicycle production was stopped in 1963.
In total there are 1,750,000 bicycles built.
All motorized two-wheelers also gave an impressive number:
2.30 million (from 1900 to 1965).